Tuesday, March 12, 2013 at 05:46PM
On June 26th, 1951, the Columbia Broadcasting System (CBS) began airing the first-ever regularly scheduled color television program. The World is Yours! featured British explorer/naturalist Ivan Terrance Sanderson trotting the globe and educating American youngsters on the culture and wildlife of various exotic international locales. Sanderson was a Scotsman by birth, but you would never guess it based on his flawless received BBC/public school accent. He left home at the age of fifteen, with the blessing of his parents, and it seems as if he spent the rest of his life accumulating cocktail party anecdotes involving dangerous African safaris, bizarre scientific investigations, and his time as a clandestine officer for The Crown during WWII. His charisma was legendary, and he was known for befriending any person he found remotely interesting from obscure scholars to cultural luminaries, including novelist Ian Flemming to name just one.
By the late 1940's Sanderson had gained a reputation as a semi-famous public intellectual and broadcaster whose published works on his exploratory adventures were praised for their thorough attention to detail and the quality of his personal sketches and illustrations. (example below)
In some ways Sanderson broke the mold of the writer-adventurer, which by the mid-40's was a familiar archetype in the popular culture in part due to the rise of cheap men's magazines which recounted war stories and near-death encounters with various wild beasts. The New York Times highlighted 1937, reviewing his book Caribbean Treasure:
Mr. Sanderson is manifestly not out for personal glory. He does not pretend that his visits to Haiti, Trinidad and Surinam were in any way heroic -- even though some of his experiences would scare a city dweller out of a year's growth. He does not try to fit himself into the popular conception of an explorer as "something bronzed and half-sarved pounding through the primeval beneath a solar topee, and clad in breeches and riding boots." He wears tennis shoes, a pair of ratting pants, a thin gray or khaki shirt and some kind of hat. For him the jungle is as safe and friendly as the Arctic seems to Vihjaimur Stefansson, unless the traveler is careless enough to get lost in it.
His quest to demystify that which mankind had not yet conquered, his desire for notoriety and public acceptance, and an increasing interest in the UFO/flying saucer phenomenon -- which had been the subject of national news coverage in the U.S. since the Kenneth Arnold and Roswell affairs in the summer of 1947 -- pushed his research projects and pubic image to the fringes of science and popular culture. Sanderson had a deep sympathy for the UFO witnesses who were routinely ridiculed in the press, and by the mid-1950's had joined the ranks of a growing association of journalists and academics committed to taking UFO-related activity seriously.
His most well-known case study, which brought the erudite and worldly Sanderson into the heart of Appalachia, was given the pulp moniker "The Flatwoods Monster" incident of 1952. It is now one of the most notorious close encounter tales in ufology.
(original news report)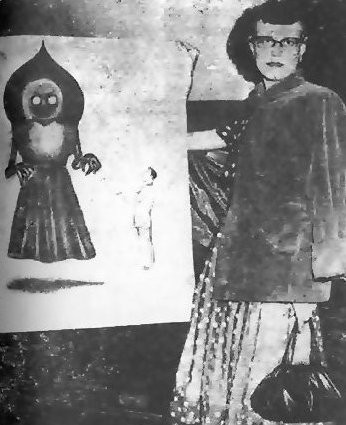 (eyewitness holding artist rendering of Flatwoods Monster)
When he arrived in Braxton County, West Virginia, Sanderson was ostensibly on assignment for the North American Newspaper Alliance, which had been buying his pieces for a few years. There are contradicting reports on his visceral impressions of the region. One account that has him referring to the state using the coinage "vile vortex" remains unverified and if actually uttered, probably did not reflect his attitude toward the people he interviewed while working on his investigation. One only has to listen this radio program recorded in 1953 to get a sense of the affection he felt to the eyewitnesses with whom he talked.
Part of Sanderson's appeal in the public eye was his romantic demeanor and bohemian sartorial choices. One may have even had the impression that he was some sort of proto-hippie figure. Yet Sanderson was a political conservative in the English tradition. Which brings us to the next chapter of the story.
I had been looking for a way to add my own contribution to serious Fortean/paranormal literature (and I'll point out right here that Sanderson had always been a disciple of Charles Fort's since he had the privilege of seeing him lecture as an young adolescent), and while searching for a unique subject on which to focus my attention I started randomly sending FOIA requests to various federal agencies. All of them were shots in the dark and most turned up nothing of interest. But after requesting any information the FBI might have on Sanderson, I was sent the following file (free of charge!)
Now, my knee-jerk leftism kicked in immediately after I read the memo. 1957, though the height of the Mccarthyism was behind the country, was a tense and politically charged moment when the public's tolerance for dissident ideologies was tested and often found wanting. Sanderson was surely aware of what such an accusation could do to a person's reputation and ability to maintain a livlihood, and I could not understand what was going through Sanderson's mind when he decided to inform on fellow ufologists based mostly on speculation. Letter campaigns to congressmen must be the most innocuous and polite form of political activism, but for some reason Sanderson saw a national security threat in NYSIB.
Once my anti-capitalist indignation ran its course I was able to pause and give Sanderson the benefit of the doubt that he wouldn't have made the call to the FBI unless his concerns were genuine. After all, he had worked in the intelligence community and was possibly trained ferret out such sleeper agents.
I filed a follow-up FOIA request with the FBI to get ahold of any other files or memos pertaining to the NYSIB. One would imagine that the relevant field offices would have sent at least one undercover agent to a meeting or two of the group. The response I received after a month of waiting was that the one file I had in my possession was the extant of what their public records office could track down.
Dismayed, I began the process of deep Googling and searching academic databases for any other clues.
Sanderson and his Lemur, Katta
If one puts "New York Saucer Information Bureau" into Google's main search engine every single hit is in reference to this article from a 1961 issue of the Journal of Borderland Research written by one C. Lois Jessop. Who is described as having worked in some capacity for the British government in Malta in the 1930's and 40's and also as the "secretary" (whatever that means) for the NYSIB. The article itself is certainly interest-piqueing, and for whatever reason my bullshit detector was not alerting me to the obvious signs of Fortean fabulism. So instead of putting the matter to rest to focus on a different project, I attempted to track down the National Geographic article Jessop references that supposedly mentions the school children disappearing in the cave system. Lucky for me the magazine has digitized its whole back catalogue for armchair researchers and I was able to corroborate at least this one "fact," which convinced me to dig up more info on Jessop. Seeing as her last name was not spelled int the conventional manner, with an "o" in place of a "u," I figured that any info available would not be too difficult to track down.
Not surprisingly, considering my only training in research methods comes from an undergraduate history seminar, I came up mostly empty-handed. I was able to determine, using a combination of Fortean message boards and Ancestry.com, that her full name was most likely Constance Lois Jessop and that she emigrated to the U.S. in the late 1940's. I found one possible former Manhattan home address, and also found that somebody with her exact name was a donor to campaigns of Republican Party candidates throughout the 1980's.
My hunting and info-gathering has now hit a wall. Although I'm not giving up quite yet. I have a feeling that there is more to this story than what I can piece together at present.
And don't worry, I'll let you know what I find.
P.S. If you know something that I don't about all of this, please get in touch! I'm eager to hear anybody's thoughts on this.